How To
How to Send Fax From iPhone Free?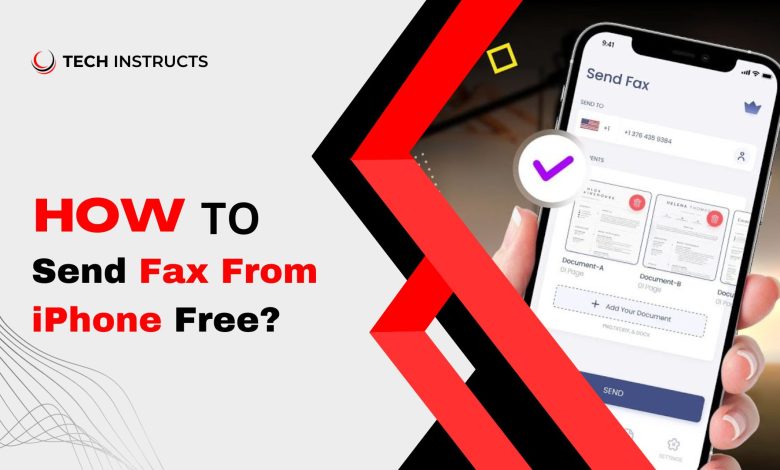 In a world where texting, emailing, and social media rule, sending a fax might sound old-fashioned. But sometimes, you still need to fax important stuff, like a job application, a contract, or a medical form. Here's the best part? This can be done right from your iPhone, and it won't cost you anything!
Imagine this: You are about to close a big deal for your business, or you need to send vital documents securely and quickly. You don't have to hunt for a big, clunky fax machine or pay a bunch of money to do it. Your iPhone can do the job!
We are here to show you how to send a fax from your iPhone without any fuss. We will introduce you to easy-to-use apps and walk you through the steps. Whether you are a student, a busy professional, or anyone who needs to send a fax, we've got your back.
How to Send a Fax from iPhone for Free?
Here is a step-by-step guide of how to send fax from iPad free: 
Download a fax app
There are many fax apps available for iPhones, both free and paid. Some popular free fax apps include:
FAX.PLUS
eFax
Fax Burner
Easy FAX
Once you have chosen a fax app, download and install it on your iPhone.
2. Create an Account
You must create an account before you can send faxes from most fax apps. You will usually be asked to provide your name, email address, and phone number.
3. Choose a Document to Fax
As soon as you create a fax account, you can choose which document you wish to send. Most fax apps allow you to fax documents from your iPhone's storage, cloud storage, or email.
4. Enter the Recipient's Fax Number
Choosing the document you want to fax requires entering the recipient's fax number. Be sure to include the area code.
5. Send the Fax
It is now possible to send the fax to the recipient once you have entered the recipient's fax number. Most fax apps have a button that says "Send" or "Fax."
Free Fax Limits
There are usually monthly limits on how many faxes you can send with free fax apps. For example, FAX.PLUS allows you to send 10 free faxes per month. You will need to upgrade to a paid plan if you need to send more faxes.
Recommended Post: How to Get Free Money on Cash App?
How to Send Fax from iPhone Free Without App?
Send Fax From an iPhone Free without using a dedicated app is possible through various methods. To do so, follow these steps:
Use Online Fax Services
There are online fax services such as FAX.PLUS they are compatible with iOS devices. For a free FAX.PLUS account, visit the website.
Uploading your documents and entering the recipient's fax number on the iPhone will let you send faxes directly from the device.
Email to Fax
Fax services often allow you to send a fax via email by attaching the fax content as an attachment to a specific email address.
Ensure that your fax service is compatible with iOS devices by checking the specific instructions.
Online Faxing Services
Websites like RingCentral offer online faxing solutions. Visit the RingCentral website for more details.
These services typically allow you to upload documents and send faxes directly through a web browser on your iPhone.
It is important to remember that steps may differ depending on which service you choose. Always verify the service's terms and any potential fees for sending faxes, especially if you exceed the free usage limits. 
Best Free Fax App For iPhone 2023
The best free fax app for iPhone in 2023 is FaxBurner. Only this app lets you send and receive faxes free of charge. You won't find any hidden fees or in-app purchases in this app.
FaxBurner is simple to use. You just download the App Store app and create an account. Once you are registered, you will receive a free fax number that you can use to send and receive faxes. Faxes can be sent to any fax number anywhere in the world, and you can receive them from any Canadian or US fax number.
In addition to being easy to use, FaxBurner has a number of features that are ideal for business and personal use. 
Here are some examples:
Send and receive faxes on the go, from anywhere with an internet connection
Fax multiple documents at once
Schedule faxes to be sent at a later time
Fax cover pages
Monitor your faxes' status
Receive notifications when you receive a new fax
If you are looking for a free fax app for iPhone that is easy to use and reliable, FaxBurner is the best option.
These are some other iPhone fax apps that you may find useful:
iFax – This app has been recognized as the editor's choice for faxing on iPhone and iPad in 2023, making it a strong contender for your faxing needs.
FAX from iPhone: Fax App – Known for its quick fax tracking capabilities, this app is a convenient choice for sending faxes from your iPhone.
FAX FREE – This app is particularly suitable for iPad users and offers a user-friendly interface.
Easy FAX – As the name suggests, it's known for its ease of use and is a handy tool for faxing documents.
FAX for iPhone – This app provides powerful faxing tools for your iPhone.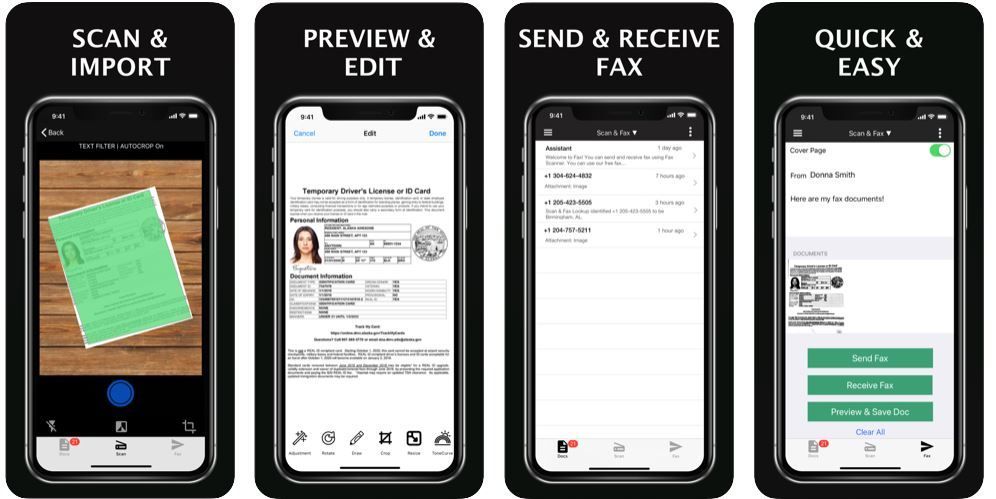 How to Send Fax From iPhone Notes?
iPhone Notes does not offer a built-in way to send faxes. Faxes cannot be sent from your iPhone notes unless they are copied or exported into a cloud storage service such as iCloud, Google Drive, or Dropbox. A fax app such as iFax can be used once the document has been attached. 
Following are the steps you need to follow to send a fax from iPhone Notes using a fax app:
Using Third-Party Apps
Open the Notes app on your iPhone.
To fax a note, tap on it.
Tap on the Share button (the square with an arrow pointing up).
Scroll down and select the fax app that you want to use.
Include any necessary information about the recipient, such as their fax number.
Tap on Send.
Using the FaxPlus App
Open the Notes app.
Create a new note or select an existing one.
To scan your document, select "Scan Documents" from the Camera menu.
After scanning, tap "Save."
Download and open the FaxPlus app.
Click the "Send Fax" button in the app.
You will need to enter the recipient's fax number in the "To:" field.
Finally, hit "Send" in the top-right corner to send the fax.
Must Read: Edgenuity Earth Science Answers: A Comprehensive Guide
How to Send Fax From Gmail?
To send a fax from Gmail, you have several options:
Using Google Chrome Extension and Gmail
If you have a Gmail account and a Google Chrome extension, you can send a fax. You can send a fax using this method without a physical fax machine.
Subscribe to a Fax Service
Sign up for a fax service that supports faxing by email. Once you have the service, you can send a fax by composing a new email in Gmail. Ensure that the "To" field contains the recipient's fax number and the domain of the fax service provider before sending.
Using Google Drive
Google Drive can also be used to send faxes. If you want to fax a document, please attach it from your local drive or Google Drive. The "To" field should include the country code of the recipient's fax number.
Final Thoughts
To summarize, you can definitely Send a Fax From an iPhone Free without spending any money. There are apps and online services that make it simple. You just need to change your digital documents into a format that works for faxes and then send them securely to the person you want. This way, you don't need a fax machine or paper, which can save you time and money. 
FAQs About How to Send Fax From iPhone Free?
Following are some FAQs About How to Send Fax From iPhone Free?
Is there a free fax app?
Yes! It is true that there are a number of free fax apps available for both Android and iOS devices. Some of the most popular ones include:
FAX.PLUS
iFax
HelloFax
GotFreeFax
FaxZero
Sending and receiving faxes is free with these apps, but there may be some limitations, such as how many faxes per day you can send or how many pages you can send per fax.
How can I send a fax via email for free?
To send a fax via email for free, you can use an online fax service such as FaxZero, GotFreeFax, or eFax (free trial). These services allow you to send faxes by attaching your documents to an email and sending it to their special email address. You can then send your documents to the recipient's fax number after your documents are converted to fax format.
How can I fax a PDF for free?
To fax a PDF for free, you can use any of the free fax apps or online fax services like FaxZero. Simply upload your PDF file to the app or service and enter the recipient's fax number.
Can you fax from Gmail for free?
Gmail does not have a built-in fax feature, so you cannot fax directly from Gmail for free. However, you can use an online fax service to fax from Gmail. Your documents should be attached to an email and sent to the special email address of the online fax service.