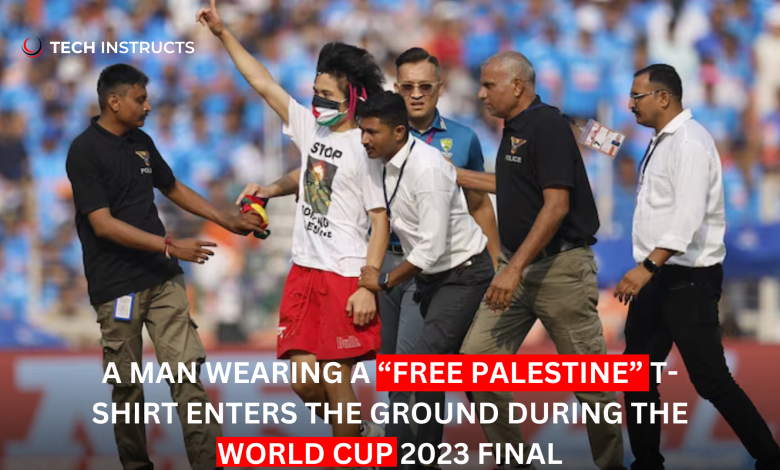 During the Final of World Cup 2023 a young man entered the Narendra Modi stadium and invaded the pitch from nowhere. Everybody in the Crowd and at home was shocked to see such a thing happening like this in the World Cup 2023 FInal.
Who was the Man and where he came from? We will see the details about this incident in the following lines
What Actually Happened?
When Virat Kohli and Kl Rahul were batting they were building a strong partnership to increase the chances of their team to win the World Cup title. A man from nowhere came into the Ground and invaded the Pitch during the 14th over. The man was wearing a "Free Palestine" t-shirt. "Stop bombing Palestine" was also written on his T-shirt. He came close to Virat Kohli and tried to hug him. Virat held his hand for a moment but after a few seconds, the security came to the ground and took the Man away from the Ground. The Young man also wore a mask on which the "Palestinian Flag" was drawn. The Boy also had a "Rainbow Flag" in his hands. It showed that the man wanted to show his concerns about the things that are happening in Gaza. So, the young man in front of more than 1 Lac people in Ahmedabad showed the Palestinian Flag to wake the people from silence.
Palestine and Israel Conflict
The genocide of thousands of innocent people in Palestine is heart-wrenching for every person. The Israeli army has killed Thousands of people including Men, Women, and even Children. So, to show unity with the Palestinian People a young man came from nowhere into the ground and showed his respect to the innocent people of Palestine.
Identity of The Young Man
The Young Man is actually from Australia. His name is Wen Jhonson and he is 24 years old.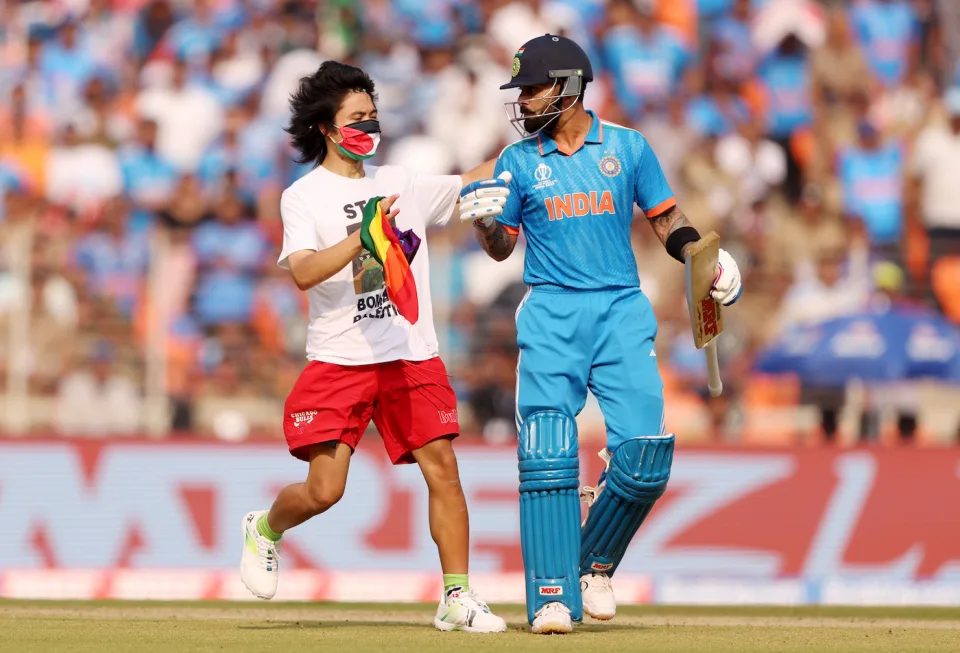 What Happened After?
After the man was taken over in custody by the security officials, they gave him to the police and he was taken to the Chandkheda Police Station. The Security in and outside the Ground was very tight. The Ahmedabad police have deployed 6000 Police Personnel on the Security of the Ground. It was due to this reason that Indian Prime Minister Narendra Modi, Australian Deputy Prime Minister Richard Marles, and many VVIPs including celebrities were also watching the highly intense Final of the World Cup between the two best teams of the World.
The Australian Team won the Toss and Decided to Field first.